A lot of the parents are starting to search the internet for any information that would help them decipher the test results that are hitting the mail.  Today's post is dedicated to the SCAT test.  SCAT is used by the John Hopkins Center for the Talented Youth to screen applicants for the GAT offerings.
CTY uses three levels of the SCAT.  Below is the information on understanding your child's score and how it compares to the peer population.
Students in grades 2-3 take the Elementary SCAT designed for students in grades 4-5.
Students in grades 4-5 take the Intermediate SCAT designed for students in grades 6-8.
Students in grades 6 and above take the Advanced SCAT designed for students in grades 9-12.
Because this is an above-grade-level test, after the test, you'll receive information that shows how your child's score compares to that of students in the higher grades for whom the test questions were originally designed.
SCAT Scaled Scores range from 401 to 514 depending on the level the student takes. Here are the ranges:
Elementary Level
Verbal Range = 401-471
Quantitative Range = 412-475
Intermediate Level
Verbal Range = 405-482
Quantitative Range = 419-506
Advanced Level
Verbal Range = 410-494
Quantitative Range = 424-514
This scaled score is based on the number of questions the student answers correctly out of the 50 scored questions in each section.
SCAT percentiles are used to compare students to the older population to whom the student will be compared. For example, Grade 2 students are compared to a general population of 4th graders and so on, as detailed below.
Grade 2 is compared to Grade 4
Grade 3 to Grade 5
Grade 4 to Grade 6
Grade 5 to Grade 8
Grade 6 to Grade 9
Grade 7 to Grade 12
Grade 8 to Grade 12
Check out Smarty Buddy SCAT Workbook on Amazon and the accompanying Smarty Buddy App.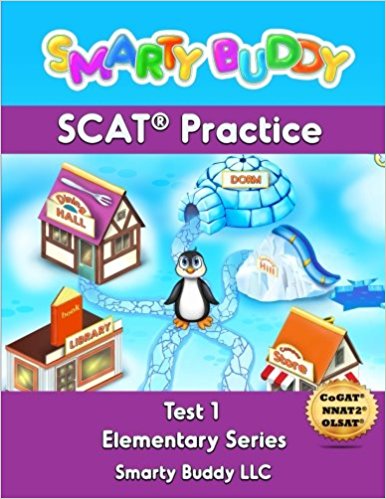 Check out our App Demo for some of the questions in the Sequences Test:
Get your child ready for SCAT Test!!!