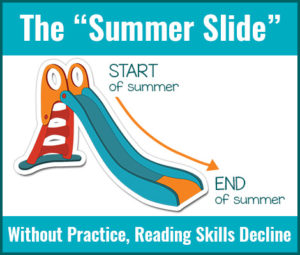 Summer is here!
Parents and kids are excited.  Parents are excited to no longer have to pack lunches and kids are excited… well, to relax and stop learning.   But this is where we as parents need to step in and keep the learning process going.
Stop the summer slide!  The summer slide is real!   The brain is like a muscle.  You have to keep practicing to get smarter.  If your child  does not read and do math problems in the summer time, he or she loses a 2-3 months of progress in school once September rolls around.
Keep your kids busy! Sign up for educational camps, create learning goals for the summer.  I love browsing summer workbooks at Barnes and Nobles – let the kids choose their workbooks and get ready to do a few pages a day.   Encourage them to do their work before running off to the play ground or to the pool.  It might not seem a lot – but practice makes perfect and keeps your child learning in the summer time!
And of course keep it fun – create rewards based on favorite laces to visit:  the zoo, museum, mini-golf or extra time at the pool.  Kids love positive reinforcement.  Keep them learning!