In many school districts January is the month of gifted testing!  Let's talk about the InView™ Test.
The InView™ Test is a cognitive abilities aptitude test that aims to measure cognitive skills and abilities that are essential for academic success.  It is frequently used as an entrance exam for gifted and talented programs throughout the United States.
Currently, all second graders (and new students) in Montgomery County Public Schools (MCPS) in Montgomery County, Maryland take the Inview Test  to be screened for the gifted and talented  programs in elementary schools. School districts in North Carolina, Illinois, Ohio, Pennsylvania, Wisconsin,  and Wyoming also use the Inview test to assess 2nd graders (and in some school districts  5th graders) for gifted and talented programs.
The Inview Test Format
The Terra Nova Inview Test has been designed to assess students in grades 2-12.   While many of the placement tests such as the SCAT, CogAT, OLSAT tests are computerized, the Inview test is a  paper and pencil test.   The test is divided in to five  sections: sequences, analogies, quantitative reasoning, verbal reasoning-words, and verbal reasoning-context.
The Inview Test Difficulty Levels are as follows:
Level 1: Grades 2-3
Level 2: Grades 4-5
Level 3: Grades 6-7
Level 4: Grades 8-9
Level 5: Grades 10-11
Level 6: Grades 11-12
Typically, for a gifted and talented placement test students are offered a test with a difficulty level one grade ahead of their current grade.  So for example 2nd graders will be offered a Level 1, and 3rd graders a Level 2 test.
The Inview Test Content
The test assesses students in verbal and nonverbal questions. The nonverbal sections are the sequences, analogies, and quantitative reasoning sections.  Each section is approximately 20 questions long. All of the questions are multiple choice questions.
Sequences:  The sequence section contains sequences of  letters, numbers, shapes and/or figures.  The student must select the answer that logically completes the sequence. They are provided with four possible answer choices.
Analogies: This section aims to test the concept of analogies in a non-verbal format.  The question will contain  a table with two rows of images. The first pair of images will have a specific logical relationship. The student will need to determine the relationship between the first pair of images and then choose the image that has the same logical relationship with the third image.
Quantitative Reasoning: For these questions, your child will need to understand basic numerical concepts like "more," "less," "most," and "least." She will then need to be able to apply this understanding to images and figures. For example, she may be asked to determine which of four grids has the most black area shaded.
The verbal score is comprised of the verbal reasoning-words and verbal reasoning-context sections.
Verbal Reasoning-Words: This question type measures the ability to understand relationships between words.
For example, your child may be given a list of words like the following: "Cool, cold, freezing," followed by, "Warm, ___, boiling." Four choices would then be provided to fill in the blank, with the correct choice being "hot."
Verbal Reasoning-Context: These questions involve the ability to make logical inferences based on provided information.
For example, your child may be given two statements such as, "Alice likes all of her teachers. Mrs. Lee is Alice's teacher." Based on these statements, your child would need to choose the most logical conclusion from a list of four choices. In this case, the correct answer would be, "Alice likes Mrs. Lee."
InView Test Scores
After your child takes the TerraNova InView test, you will receive a score report with her NPA (percentile by age) and NPG (percentile by grade), both overall and for each individual section. Percentiles range from 1-99 and represent your child's performance compared to a national sample of children in the same grade and of the same age. For example, if your child scores in the 90th percentile, she scored as well or higher than 90% of children in her age and/or grade group.
You will also receive a CSI (Cognitive Skills Index) that provides a measurement of your child's overall academic aptitude, based on the cognitive skills assessed with this test. The CSI has a ceiling of 141, a mean of 100, and a standard deviation of 16. Typically, a child is considered "gifted" if she scores a 132 or higher.
The TerraNova InView test scores that qualify for admission to gifted programs vary by school district. In many cases, your child will be required to score in the 97th percentile overall. However, it is always best to call your district and ask about qualifying test scores in order to know for sure.
In many cases, the TerraNova InView test is administered as a component of the TerraNova 3rd Edition, an achievement test that measures abilities in core academic subjects. If this is the case, your child will receive an Anticipated Score and an Achievement Score. The Anticipated Score is an average of what a student with your child's age, grade, and ability level should be expected to achieve. The Achievement Score is your child's actual performance on the test.
Comparing the Anticipated Score and Achievement Score can give you an idea of whether or not your child is reaching her full potential academically. If the two scores are close, your child is making expected progress. Scores that are significantly different from expected are indicated with "above" or "below" on the score report.
Benefits of the TerraNova InView Test
The TerraNova InView Test provides an accurate and reliable measurement of deductive, inductive, and quantitative reasoning abilities, all of which are crucial to academic achievement. For this reason, it gives teachers, parents, and schools insightful information about student skills that can be a valid predictor of the student's academic capability and success. It is a useful tool to identify students for placement in the most appropriate learning group.
How to Succeed on TerraNova InView Test
Assessments such as this one are meant to be resistant to preparation, but you can still help familiarize your child with the question types and build her confidence. Work on practice questions related to analogies, sequences, basic math concepts, word relationships, and inferences. Work test concepts like "more" and "less" into everyday conversation, or give your child a pair of words and ask her to determine how they are related.
Most importantly, remind your child that one test cannot fully measure her abilities and certainly not her worth as a person. Text anxiety can overwhelm children on test day and dramatically impact both their stress levels and their scores. Help your child feel prepared and confident about the test without putting too much pressure on her.
Hopefully we've answered all of your questions about the TerraNova Inview test. Begin practicing about two months prior to the test to give your child the best chance of success and, if applicable, admittance to your district's gifted program.
We designed the Smarty Buddy App and Smarty Buddy Inview Books to help kids get familiar with test format.  Let's face it, sometimes an unfamiliar test question in a stressful test situation that 2nd graders are not used to can really ruin a child's performance!  Every child deserves to be offered a spot in the most advanced programs.  The pacements tests are a subjective determination created by a school system administrator.  We as parents and educators believe in offering parents and their children the opportunity to learn about the test format and have a positive test taking experience!
The Smarty Buddy App was designed based on the types of questions a child might encounter on the Inview and similar gifted placement tests.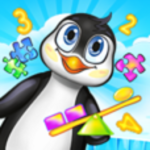 The full version game features 3 grade levels, 5 test topics, and 3 levels of difficulty. With over 670 questions to play, this fun game can complement or replace any worksheet test preparation. Now on all App Stores!
Test Topics: Number Sequences, Picture Sequences, Picture Analogies, Quantitative and Number Puzzles
Features: Positive reinforcement through game badges; progress reports for parents.
The Smarty Buddy CogAT Practice Book is a workbook designed to give any child the opportunity to get familiar with CogAT question format.  For a hands on approach of testing at home with mom and dad – try practicing with our workbooks and apps.  Your child will feel more confident on test day, and you will feel assured that you provided the best educational resource  for your child to get ahead!
Check out our products on Amazon and All App Stores!
Good Luck and your opinion is very important to us! Leave us a review!
Elementary school aged kids:
Pre-school aged kids: