The School and College Ability Test (SCAT), is a standardized test conducted in the United States that measures math and verbal reasoning abilities in gifted children.
The SCAT is used by the Center for Talented Youth (CTY) as an above-grade-level entrance exam for students in grades 2–5. Students in grades 6-10 take the Advanced SCAT.[1] There are 50 questions per section, 5 of which are experimental.[1] The percentile ranks for the SCAT have not been updated since 1979. So, when your child takes this test, your child is being compared to a national sample of children who took the test in 1979.
Scoring is based on a three-step process in which a child's raw score is scaled based on the test version and then compared to the results of the test scores of normal students in the higher-level grade. Please keep in mind that the group of normal students took this test in 1979. So, your child's percentile ranks could be different if compared to a more recent group of test takers. [4] The minimum scores required for qualification for the 2nd to 10th grade CTY summer courses are below:
Grade 2 ≥ 430 SCAT Verbal or 435 SCAT Quantitative
Grade 3 ≥ 435 SCAT Verbal or 440 SCAT Quantitative
Grade 4 ≥ 440 SCAT Verbal or 450 SCAT Quantitative
Grade 5 ≥ 445 SCAT Verbal or 465 SCAT Quantitative
Grade 6 ≥ 450 SCAT Verbal or 470 SCAT Quantitative
Grade 7 ≥ 455 SCAT Verbal or 475 SCAT Quantitative
Grade 8 ≥ 460 SCAT Verbal or 480 SCAT Quantitative
Grade 9 ≥ 465 SCAT Verbal or 485 SCAT Quantitative
Grade 10 ≥ 470 SCAT Verbal or 490 SCAT Quantitative
The Smarty Buddy App was designed based on the types of questions a child might encounter on theSCAT and similar gifted placement tests.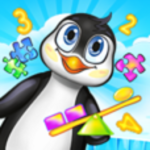 The full version game features 3 grade levels, 5 test topics, and 3 levels of difficulty. With over 670 questions to play, this fun game can complement or replace any worksheet test preparation. Now on all App Stores!
Test Topics: Number Sequences, Picture Sequences, Picture Analogies, Quantitative and Number Puzzles
Features: Positive reinforcement through game badges; progress reports for parents.
The Smarty Buddy SCAT Practice Book is a workbook designed to give any child the opportunity to get familiar with CogAT question format.  For a hands on approach of testing at home with mom and dad – try practicing with our workbooks and apps.  Your child will feel more confident on test day, and you will feel assured that you provided the best educational resource  for your child to get ahead!
*Source – Wikipedia